Tallahassee Northside
Welcome! We are delighted you are taking the time to visit our website. The Rotary Club of Tallahassee Northside is a very active club in service to our community - both locally and globally. As past Rotary International President Barry Rassin pointed out, "Together, we see a world where people unite and take action to create lasting change - across the globe, in our communities, and in ourselves."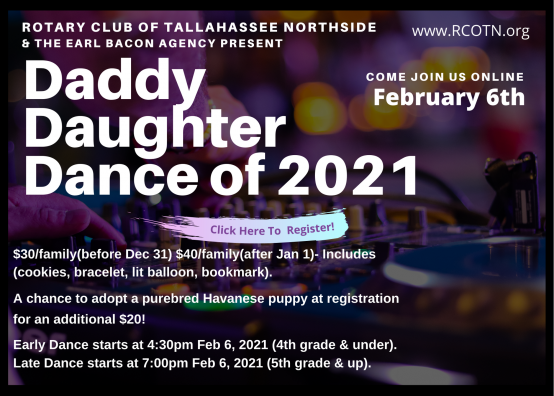 ________________________________________________________________________________________
Rotary Club of Tallahassee Northside GIVING BACK TO THOSE WHO KEEP US FREE!
Care Packages to Troops in Harms Way is a project started in 2009 by Past Rotary District Governor, an Army Col. (Ret.), Gene Sherron. Many of our club members have served in the armed forces, are serving, or have had family members who have served. With this shipment of 24 boxes, the Rotary Club of Tallahassee Northside has sent 754 boxes to troops in such places as Afghanistan, Syria, and Iraq. Students have joined the effort; Holy Comforter, Maclay in past years, and this year Tallahassee Northside's sponsored Interact service club for high-schoolers, called N.I.C.H.E(Northside Interact Club for the Homeschool Educated). Special thanks to the Golf Club at Summerbrooke for allowing us to assemble the boxes there and the Earl Bacon Agency & FSU ROTC for splitting the cost of shipping. A Rotary motto, "Service above Self", describes our veterans. THANK YOU!!